How it all started
It is September 2020. I have just been informed that I am being made redundant from my job due to COVID-19. I've spent 13 years of my life building a career in hotel sales. This was not time wasted. A career enjoyed. For the current and foreseeable future, however, it is experience that is not all that relevant.
Time to find something new. Something I can apply the skills I have gained and developed over my career. I'm great at selling a service I believe in. But what service? The job market is saturated with candidates, hotels aren't hiring, oh, and I never tire of hearing: "Sorry, you're overqualified" or "You don't have any experience in the [insert industry]". Bugger.
Something else then. Something I can create. But Jason, what can you offer that you can build on? Something that others aren't offering. "Well, I am really good at shining shoes". Shoes it is then.
So that is how Fulham Shoeshine started. It's been 7 months of shining shoes and I have loved it. I get to work with beautiful footwear by Gaziano & Girling, Berluti, and Crockett & Jones, to name a few. I was even asked to restore King George VI's boots a few months back. What I love the most, however, is the human component. Meeting new clients and advising on how our services give longevity and sartorial elegance to their beloved footwear.
Jason in the early years
I got into formal fashion when it was time to take off the company uniform and start dressing for the part at work. When out visiting clients and attending network events, I quickly learned that my first, somewhat cheap, suit purchases weren't going to cut it. It seems you're standing out, but for the wrong reasons. Before I knew it, I had commissioned three bespoke suits and was looking at my first footwear investment. I went with a black pair of Alfred Sargent oxfords, no broguing.
Being in my early twenties and having spent more money than I care to admit, on more shoes than I care to admit, I was in the mindset of needing to protect my investment. I started researching how best to care for leather footwear. For a while, I became obsessed with achieving the highest possible shine across the entirety of my collection. I would come home, and it was off with the shoes, in with the shoetrees, out with the brush and polish, and your sanity, for a half-hour or so each evening.
It went on like that for years and over time I was building a reputation across my professional network as the dandy who always wore loud accessories and had the shiniest shoes. Clients would ask me where I had my shoes polished to achieve such a shine. On my commute, I'd get asked where I bought my ties, pocket squares, and socks and how I came up with the combinations. In truth, I am colour blind, so I was best-guessing the combinations. Great answer, Jason…
…But tell them about your shiny shoes. I'd explain that I got carried away when I was younger, and it had become a habit. A great habit. A habit I wish everyone had. You've got this amazing opportunity to make a real statement about yourself. My shoes have a mirror shine and are meticulously cared for. Your shoes are dull and scuffed and probably have a hole in the sole. In the City of London which statement do you think gets you further?
I was asked on several occasions by multiple clients if I would be interested in shining their shoes. The rates they suggested were extortionate. Perhaps I should contact them now... I declined, naturally. But when the time came, it was these interactions and comments that spurred me on to carve something out for myself.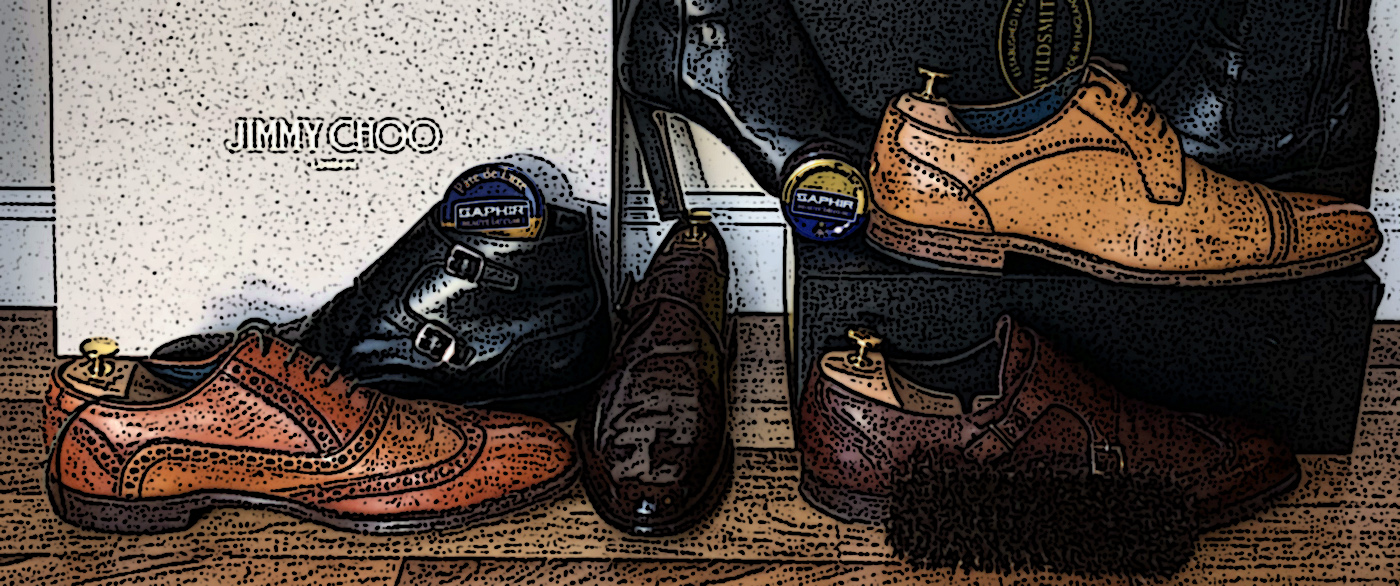 Fulham Shoeshine as it is now
When COVID hit and business opportunities dried up, I realised I could always rely on my attention to detail and commitment to clients. Now I get to combine both passions. Sure, I don't get to prance around the City in Holland and Sherry suits, go out to networking events or discuss business over lunch. I've done all that and I may very well do it all again, but for now, I get to enjoy the finer things in life. Shoes.
Our process takes time. We are not a shoeshine stand turning shoes around in 15 minutes. We do not go into offices and service 40 pairs of shoes in a day. That is not a quality service and the leather simply cannot get the nourishment to prolong its life and provide a lasting finish.
If you are looking for true revitalisation of your leather footwear with the confidence that care, attention, and the best products on the market are being used then we'd love to hear from you. If you're interested in learning how to service your own shoes then we'll be releasing an article very shortly on how to do so and the products we recommend. Just stay away from the instant shine!
We operate in and around the Fulham, Chelsea, and South Kensington area however we are willing to travel further, depending on the job. Get in contact via our social media pages or send us an email!
- Jason Cleaver, Founder